Katharine Dickson, SFR, ABR, Licensed Real Estate Saleperson
Kate specializes in waterfront property, but is willing to help you find your special property no matter where you want to be in the north country. She is always willing to go the extra mile to help her clients, both sellers and buyers. In summer, she lives on her family island in the St. Lawrence, and is well acquainted with the river and surrounding area. You can contact Kate at (315) 783-2104. Her e-mail is kdicksonfrontporch@gmail.com.
Kenneth Catlin, Licensed Real Estate Associate Broker
Ken is an experienced agent who will do his best to help you sell your home or find your dream home. He knows how to market your property on the internet and get the exposure you need to sell it fast. Ken loves real estate and he loves helping people. You can contact Ken at (315) 608-1785. His e-mail is kensfpr@yahoo.com.
Christine A. Hogarth, Licensed Real Estate Salesperson

Christine goes above and beyond for her clients and customers. She is an experienced agent whose husband, now retired spent 22 years in the military. A north country resident since 1998, she knows the market. Her buyers and sellers all love and recommend her. She understands military buyers and sellers and will make your sale as smooth as possible. To contact Christine, call (315) 408-7936 or e-mail her at hogarthc4@gmail.com.
Tina Morrison, Licensed Real Estate Salesperson
Tina is organized and efficient. She an experienced business woman and an tireless worker. She has sales experience and has owned and run her a business and knows how to market your property for you. Tina specializes in the Cape Vincent, Lake Ontario regions, but is also familiar with Watertown and the surrounding area. She is enthusiastic and anxious to to sell homes in the North Country. To contact Tina, call (315) 222-4397 or email her at tmorrisonfpr@gmail.com.
Amy Jo Funk, Licensed Real Estate Saleperson
Amy is the kind of person who can immediately put you at ease. Her enthusiasm is infectious, and as a military spouse, she understands the needs of military buyers and sellers. She will work hard to help you sell your home or find that special property you have been looking for. To contact Amy, call (253) 468-1406 or e-mail her at tihomesales243@gmail.com.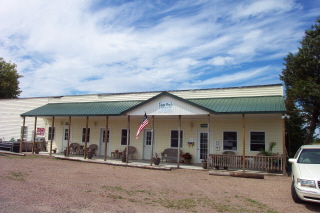 What type of property are you looking for? We can e-mail you a list of homes, waterfront property (St. Lawrence River, Indian River Lakes, Lake Ontario, or Black Lake) recreational land, building lots, farms, commercial/investment properties and more.
If you are selling, we can offer market analysis to help you price your property for today's market, and offer you our marketing expertise to help it sell fast.